In Memory
Patricia Douglas VIEW PROFILE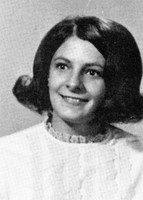 Ellen Bandy shared this:
Most People don't know this, but Patsy and I were 1st Cousins. We literally grew up together. She was a beautiful, Sweet Christian Woman. Her Death was very hard for Her Family, and came very quickly, she will sorely be missed. I believe her and Danny were married somewhere around 42 Years. They lived in Brunswick, Ga with their three Children, most of those years.
Survived By: Her Husband Danny, Cindy-Daughter, 2 Sons- Danny,Joey. Also, I think 6 + Grandchildren.
Click here to see Patricia's last Profile entry.